Recently Bluebell was invited to take part in the Twitter-led 'Homebuilding Hour', hosted by the Homebuilding and Renovating Show team. It was a great way to share industry insight across manufacturers, self-builders, suppliers, and others. We had a great response from our answer to the question "What should self-builders consider when it comes to doors and windows?"
Windows: Consider frame size. How much of your view/light inlet are you ok with losing to a chunky frame? RJ #homebuildinghour

— Bluebell Products (@specifybluebell) June 7, 2017
This question (and it's answer) inspired us to shed some insight onto why self-builders should consider their window frame size and how much potential they have in a self-build.
They're an architectural element
Windows are one of the most important design features of a building. Historically they've served as indicators of wealth, so much so that they were taxed in the late 17th Century. Luckily in modern times, we're able to make entire walls out of glass, and having an interior space filled with daylight is not just a design concept but a necessity.
Frame size is everything
With this in mind, frame size has everything to do with how much light you're allowing into your interior space. PVCu windows often have chunky, bulky and unsightly plastic frames, and whilst they provide an art-deco chic, the bigger the steel-framed windows, the more transoms and mullions they require.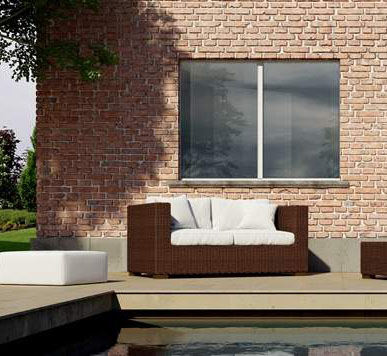 We're of the opinion that you should do away with anything that gets in the way of your building's light inlet or anything that spoils the view. For windows, the choice is no longer just "the lesser of two evils" between PVCu and wood; it's now "the best of the best". So there's no reason why slim frames and clean architectural lines shouldn't make their way into your window panes and, by extension, your interior space.
Let's take ES Finestra's aptly-named Zeroframe window for example. There's no frame on the outer side – as an observer looks into the building – and there's a minuscule 44mm band of colour coating on the inside (this hides the frame and keeps to a minimalist aesthetic).
They fit in any project
From period homes and restorations to new builds and grand designs, slim-frame aluminium windows can blend into any project. They need very little maintenance and are long-lasting, and even include a thermal break in order to retain heat. Their energy efficiency makes them ideal for modern projects where a high thermal value is required. Whether it's a casement, sash or tilt-and-turn, slim-frame aluminium windows are available in a variety of options.
If you have any queries, questions, or just want to know more about slim-frame aluminium windows, Bluebell's team of industry experts are always on hand to help.